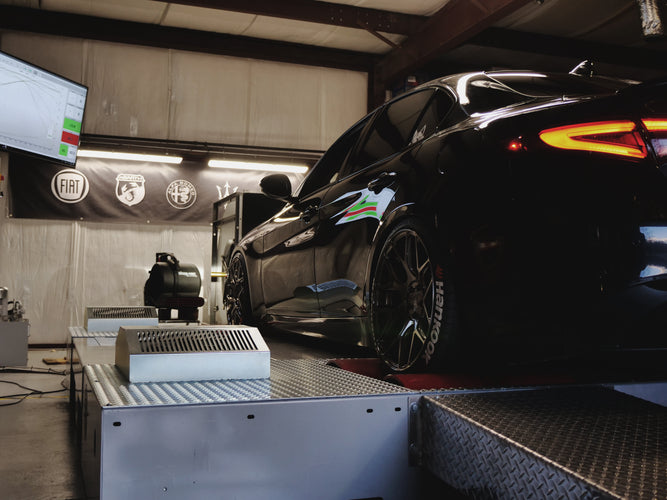 NEW TESTING INFO:
UPDATED 3/22/23
UPDATED DYNO & Drag Strip Testing for 2023: Phase 1 and Phase 2 tune testing for 2021 Models, & Phase 3 Hybrid Turbo Tune Dyno and Drag Strip Testing
Our dyno software has been updated at this point multiple times by Dimsport, slowly fixing small issues with dissipation, roller calibration and readings. The latest update has been much more accurate, and much more consistent with what it is showing with repeated runs based on the data. We decided this was a good opportunity to get updated results on the latest model years.
- PHASE 1 and PHASE 2 Tuning ONLY. Testing for updated MY2021 Results. 
- PHASE 3 HYBRID TURBO (w/controller, V4 Intake, Centerline Full Exhaust)
- DRAG STRIP RESULTS for PHASE 3 HYBRID TURBO TUNE
RUN 1: 12.501s @ 115.19mph  (DA 838ft)
RUN 2: 12.523s @ 115.72mph  (DA 961ft)
RUN 3: 12.436s @ 115.09mph  (DA 1868ft)
RUN 4: 12.390s @ 114.82mph  (DA 1868ft)
DA CORRECTED TIME: 12.219s @ 116.50mph (last run)
TRACK SETUP:  PZERO Street Tires, Stock Wheels, Pump Gas, EC V4 Air Intake, Centerline Exhaust with Catted Downpipe, EC Hybrid/Upgraded Turbo Bundle, EC EURO+DRIVE Hybrid Turbo Tune, EC Secondary Heat Exchanger.
 ----------------------------------------------------------------------------------------------
UPDATE: Jan 2020
Our Phase 1 and 2 calibrations are complete for the Alfa Romeo Giulia 2.0L TB 280HP.
Below: Updated dyno testing done with High Flow Catted downpipe on P2, then tune changes made to P2 for the downpipe.