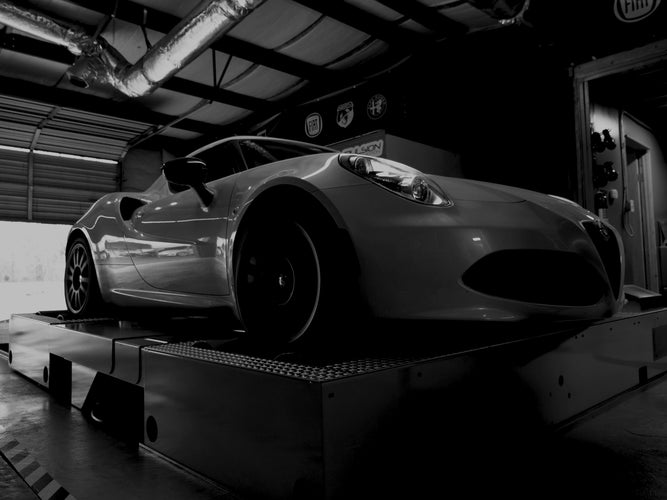 (Updated 3/22/19)
 With the addition of our new 2WD/AWD HLS Dyno in the shop, we decided to take the time to revert our Alfa Romeo 4C shop car back to various stages, in order to obtain accurate testing information for all tuning phases from the new dyno setup. 
In the past, our primary testing method was using Auterra, a road dyno testing software that allows for controlled power/torque runs via wheel speed readings and other various data points. This allows the car to utilize real road air flow and wind speed without interruption from various safety systems on the car that otherwise may be triggered on a traditional 2WD dyno setup. 
The transition to our HLS dyno setup would prove to show lower numbers than Auterra, and this was to be expected based on a number of variables. An HLS dyno (hydraulically linked system) controls both the front and rear rollers via a complex fluid pumping system using hydraulic oil, which allows for both sets of rollers to be synced with no margin of error. This allows for any car (either 2WD or AWD) to be tested exactly as it would drive on the road (less the air pressure and cooling effect at the front of the car), with no dash lights or interference from the traction control and stability control systems. This also matches the speeds of the front and rear wheels. 
This technology also allows for complete control of testing at various rpm points, load stages, and throttle input. The vehicle can be held at any stage in the powerband, under any of the above conditions for as long as we allow, all while monitoring data and diagnostic information. 
The goal was to use the same car, on the same dyno to re-test all of our tuning work thus far, and make any fine tuning adjustments as needed to the existing maps. 
Below are tuning results for Phase 1-3 for the Alfa Romeo 4C.
----