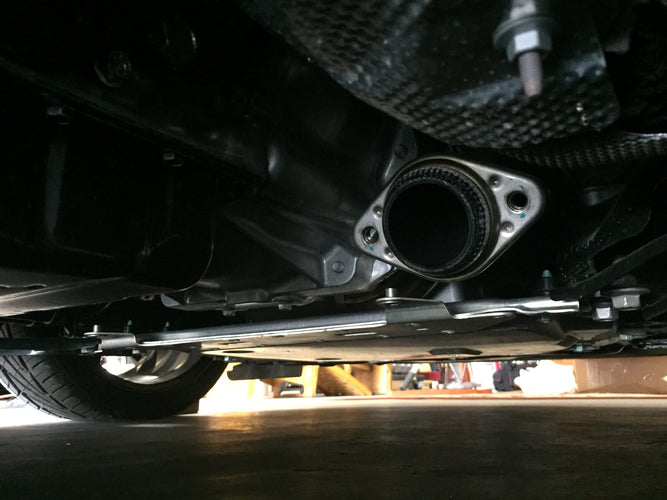 In a continuation of our datalogging on the Fiat 124 Spider, we tackle our next variable that could potentially affect factory safety and performance parameters: the high flow exhaust system.
EUROCOMPULSION has been working with the 1.4L Multiair Turbo engine since its 2012 debut in the U.S. with the introduction of the 500 Abarth. Throughout this period, we have tested and run through the ringer an array of exhaust options including smaller diameter setups, larger diameter piping, catless setups, high flow cat units, and complete exhaust system replacements from the turbo back. 
Though the 124 Spider operates on the same powertrain, our testing continues. An understanding of how these modifications affect performance safety is crucial to our development of our own exhaust systems, as well as performance increases with ECU tuning. 
REMOVING THE FACTORY EXHAUST
So to begin, we decided to make the exhaust system as high flow as possible. The entire midsection of the exhaust was removed, leaving only the crossover piping coming directly off the catalytic converter. We then replaced the crossover piping with the largest diameter pipe we could find in our shop.
The results left the exhaust exiting right underneath the cabin of the 124, making it loud and very high flow, while posing very little restriction (see video for sound).
NOTE: This is experimental in nature, and we do not recommend leaving the exhaust this way, unless you love the smell of fumes!
MORE AIR FLOW
Combined with our exhaust modifications, we decided to run our Euro+Drive Lite on its highest boost setting, the Race map. These two modifications create the perfect conditions for high demand and movement of air flow. Doing this would allow us to push the 1.4L engine to an acceptable limit of testing to ensure the ECU is managing and maintaining the appropriate air/fuel ratio targets throughout the powerband for the ideal balance of safety and performance.
THE RESULTS
Under these conditions, the ECU was able to maintain the appropriate air/fuel mixture. After numerous runs, the mixtures we documented were slightly leaner in comparison to our previous runs with the stock exhaust system, but not enough to cause concern. This setup is very aggressive, and the ECU is managing fuel and air in good form. 
As we have learned in the past with the 1.4L Multiair Turbo vehicles, a larger exhaust does not always result in larger performance. With a boost control unit / piggyback (i.e. Euro+Drive Lite) or an ECU tune, we can fully test how the 124 utilizes increased air flow, and its effects on efficiency, safety, and performance.