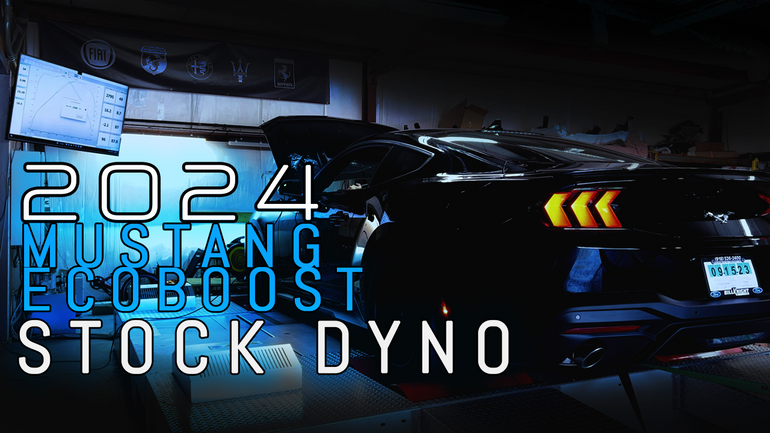 Eurocompulsion hits the dyno and gets the first stock dyno results on our 2024 (S650) Ford Mustang Ecoboost 2.3L, black with the performance package.
We run the car in Normal, Sport, and Track to get the factory wheel horsepower and engine horsepower output to see what this new generation 2024 Mustang Ecoboost is putting out. We also compare these results to our previous generation (2018) Mustang Ecoboost.
The 2024 Mustang Ecoboost is currently in development, with performance parts and various tuning options on the way. Keep an eye out for our performance line and ECU tune about to release for the previous generation (S550) 2018 - 2023 Ford Mustang Ecoboost.
Stay tuned for more, and follow us on Instagram and Youtube for more 2024 Mustang Ecoboost content.
 #eurocompulsion #2024mustang #2024ecoboost #s650 #ecoboost #mustangecoboost #mustang_fans #mustangs
DYNO VIDEO:
DYNO RESULTS:
STOCK DYNO:
(2024) Ford Mustang Ecoboost
91 Octane
Performance Package
Ford Rated Output (315bhp / 350btq)
Modes: Normal vs Sport vs Track
SAE corrected
Temperatures ranged from 79F to the Mid 80s. This was a relatively warm day, and although we have many high powered fans to blow on the radiator and intercooler, the car still suffered a small amount of heat soak (mostly at the top end of the rpm range, which is where you see slightly lower horsepower at the peak area. Overall, the numbers are close enough to the claimed output by Ford. 
First the wheel HP runs:
Then the dyno calculated engine HP for the same runs (our video explains how our dyno does this calculation):
Next we compare this run in sport mode (2024 Mustang Ecoboost) to our previous generation (2018 Mustang Ecoboost) car, which was run on a slightly cooler day. You can see the small differences in tuning logic, which revolves around boost, throttle movement, and spark advance. The 2024 car is also running slightly more aggressive lambda/AFR throughout the lower and middle part of the rpm range (which is different than the very rich mixture on the 2018 and previous gen Mustangs).