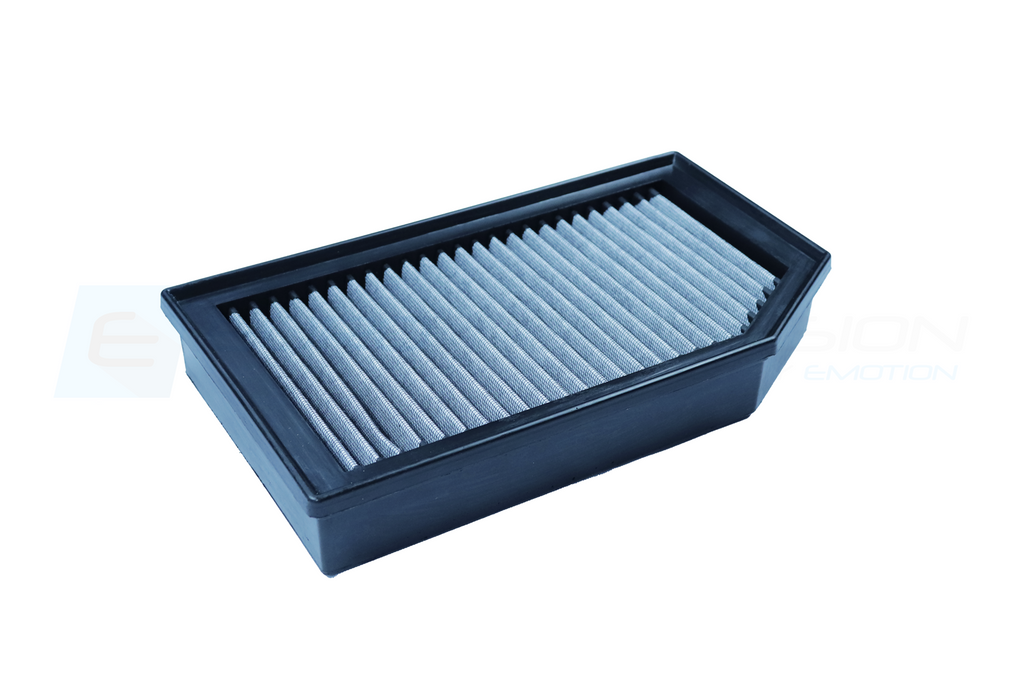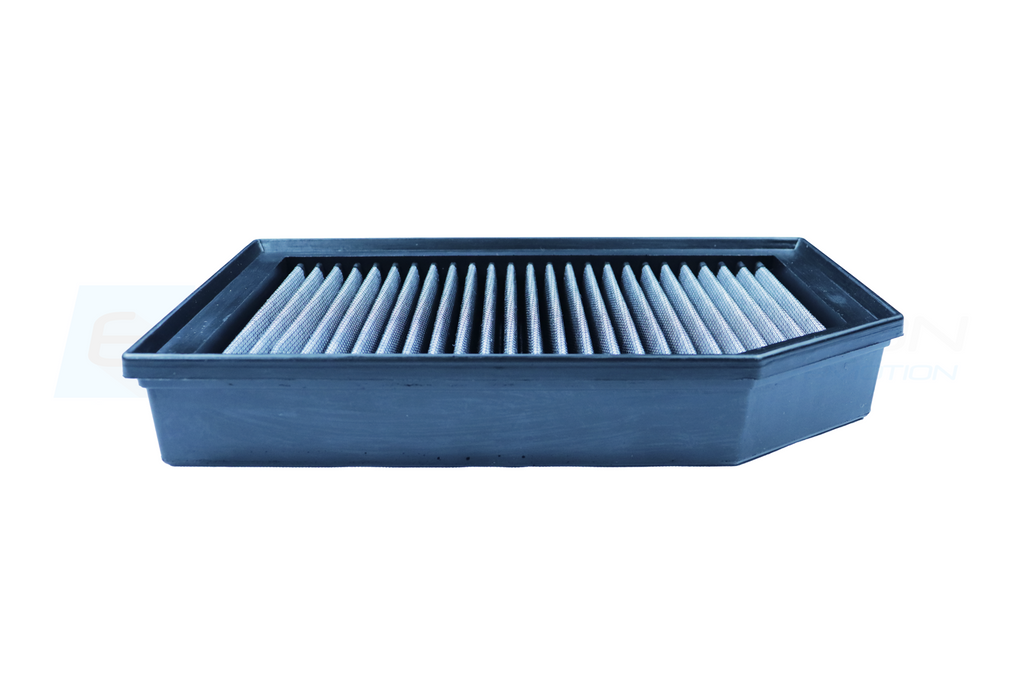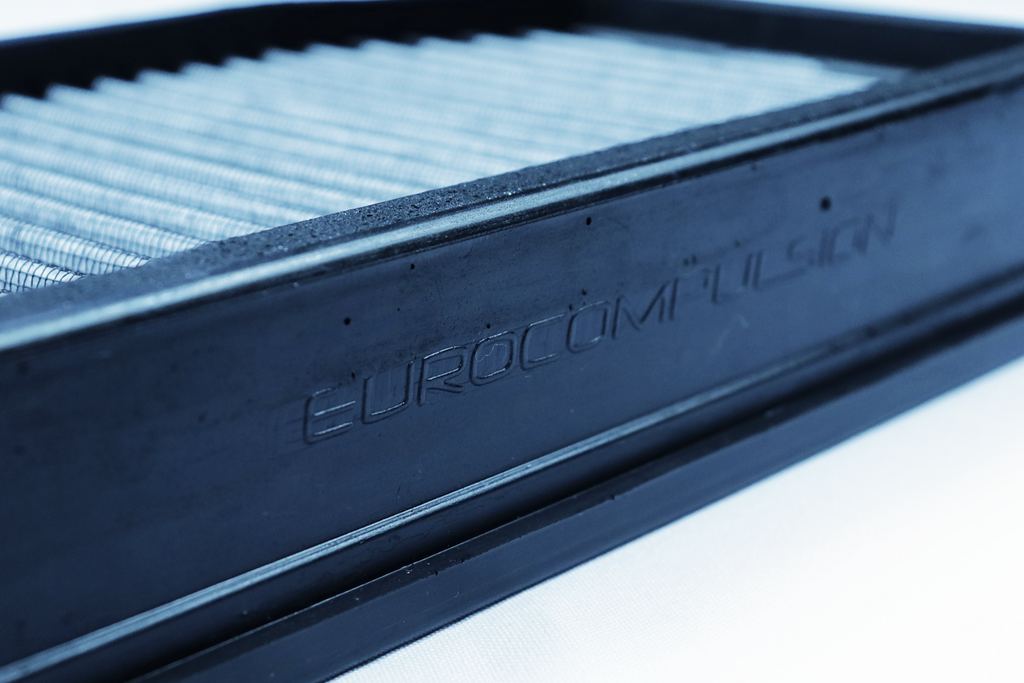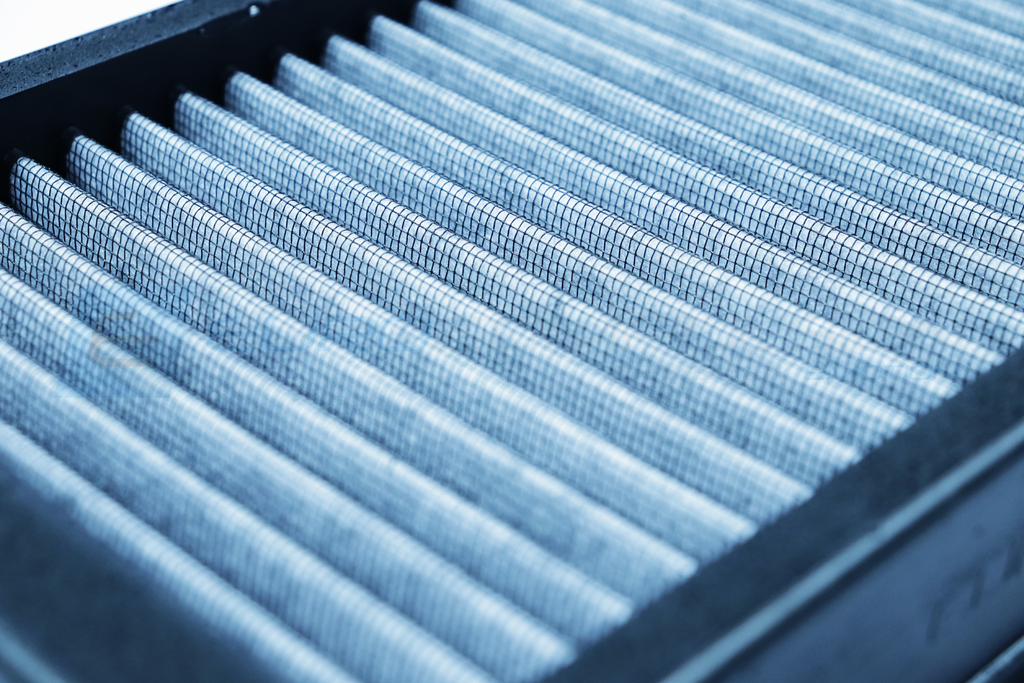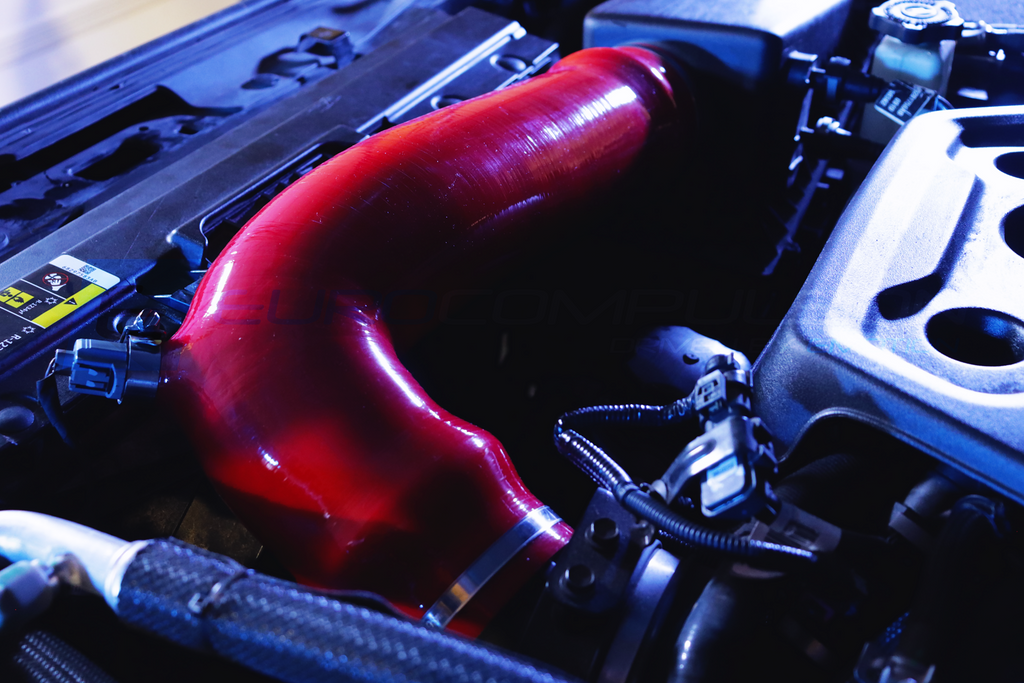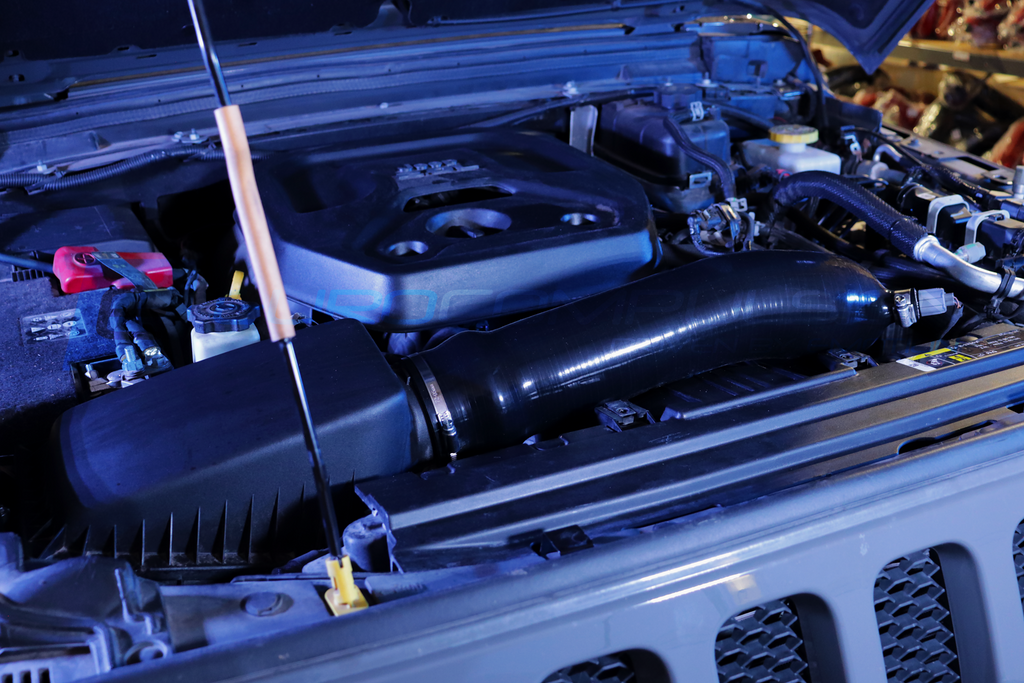 V1 AIR INDUCTION SYSTEM (JEEP WRANGLER JL 2.0L TURBO)
EUROCOMPULSION® is pleased to present the V1 Air Induction System (Intake) for the JEEP WRANGLER JL 2.0L. The V1 Induction Kit replaces the factory plastic intake pipes in favor of larger diameter silicone piping, utilizing our premium 4ply Silicone with KEVTEK reinforcement and construction. Our high quality silicone offers more efficient flow and retains cooler air temperatures going into the turbo. This kit is completely PLUG & PLAY.

Our V1 is constructed with 5 total layers of heavy duty silicone built to withstand thermal absorption of engine bay heat and pressure. The V1 contains larger diameter piping throughout, with multiple transitions up to the inlet to maximize air flow. This stepped design, which is different than standard metal or carbon fiber piping, provides improved laminar flow while reducing air turbulence. The smoothed interior walls and extremely low thermal conductivity of our silicone will provide cooler and denser air to the turbo inlet increasing engine efficiency and power output. Decreased restrictions allow for higher flow volume and significantly reduced pressure loss. 
PERFORMANCE:
Through lower temperatures and increased flow, this intake provides 6WHP & 6WTQ when combined with our EUROCOMPULSION Hi Flow Drop in Filter (coming soon) or an aFe Pro Filter. 
The V1 Intake system lowered intake air temperatures by 17% over the stock intake at wide open throttle, and 18% at cruise/part throttle.
The EC HI FLOW DROP-IN air filter utilizes an advanced filter media that improves flow by an average of 10-12% over similar style filters. This filter media filters media down to 5 microns. EUROCOMPULSION filters are created in-house, and feature a non-woven dry cotton pleat, designed as a sheet to offer sustainable filter longevity for superior filtration, and increased flow/performance. Can be run dry or oiled.
Included with this kit are (1) V1 Intake piece and clamps. Available in Red or Black. 
FEATURES:
Increased Power Output (6whp/6wtq with EC HI FLOW AIR FILTER)
Reduced Air Intake Temperatures (up to 18% lower than the stock system)
Reduced Pressure Losses in the intake tract
Increased diameter transitions for more air volume
Stepped transitional design for increased laminar flow and decreased turbulence
Maintains all factory emissions and vacuum routing
Easy Installation, no alteration to vehicle required
Will

 

NOT trigger Check Engine Lights
Increased Aesthetics
Uses optional High Flow Air filter, advanced filter media, and filtration
Easily reversible
100% Plug & Play
Includes all necessary Clamps
Filter options: AFE Pro series, EUROCOMPULSION HI-FLOW Drop-In Filter
APPLICATION:
JEEP WRANGLER JL 2.0L (2018-present)
TECHNICAL INFO/DYNO CHARTS: HERE ( or See Tech Info Tab)
INSTALLATION INSTRUCTIONS: HERE (or See Installation Tab)
Testing data for the V1 intake on the Jeep Wrangler JL 2.0L Turbo. The following results were performed with our EC Hi Flow Drop in Filter installed. Using the aFe drop in Pro filters will net close to similar results.
TEMP TESTING:
DYNO TESTING:
Dyno runs were performed on a 2020 Jeep Wrangler JL 2.0L. 91 octane, mods were EC V1 intake and EC Hi Flow Drop in Filter. Dyno used is our Dimsport HLS4WD.
Installation of the EC V1 Intake on the Wrangler JL 2.0L is very simple.
Essentially, you are swapping the stock intake unit for the V1, without needing to carry over any parts or hardware.
Start by loosening the clamps on the stock intake at the airbox and turbo inlet connector. Disconnect the probe sensor at the bend. Then loosen the baffling mounts so the entire intake piece can be removed.
Then you will install the V1 in it's place, using the provided clamps.
Start by connecting the airbox end with the turbo inlet end facing upwards. Once connected, twist the intake down towards the turbo inlet and connect. Make sure your clamps are sufficiently tightened.
Then connect the probe sensor into the port on the V1 near the elbow part of the bend. Use the smaller clamp to tighten down this connection port.
Eurocompulsion cannot guarantee the success or stated power gains while using modifications not tested in house or recommended. When testing results, always follow proper dyno procedures, use appropriate fuel, and compare to vehicle specific stock deltas. Eurocompulsion is not responsible for damage caused by or incurred by other modifications or user error/installation error by user or third party. Off-Road & Race Use Only. "Not legal for sale for, or use on, pollution-controlled vehicles." "Legal only for racing vehicles which may never be used upon a highway. Not applicable or intended for street or highway use."