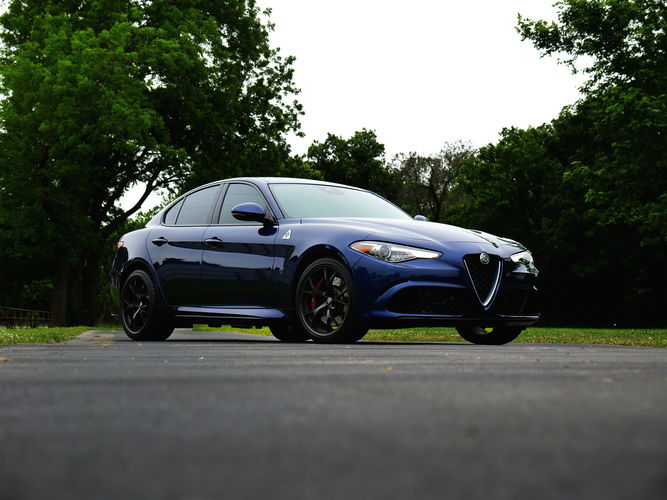 In this thread, we'll be documenting the development and build of our MY2018 Alfa Romeo Giulia QV.
The purpose of this documentation is to measure and update from recent tuning changes, as well as test and document some new modifications we will be developing for the QV. 
We will be starting with a completely stock vehicle, and moving forward with each change and test, documenting along the way. Much of this information will also pertain to the Stelvio QV as well
Let's start with the vehicle specs:
VEHICLE INFO:
ALFA ROMEO GIULIA QV
2.9L V6 Twin Turbo
Auto transmission
MY2018
I've been fortunate enough to have this as my daily driver. The QV is by far my favorite car I have owned, and I don't plan on getting rid of it. Ever.
Throughout the first stages of development for the QV, we never really explored anything outside of ECU tuning as far as anything in house made (like intakes, etc), and were unable to document closely at the time.
Beginning with this car, we will measure and detail the stock performance metrics, and move on with dyno testing, tuning, and some other new modification developments.
As of this moment, the only thing done to this QV is a re-route of the exhaust valve diaphragm vacuum lines (so that they're open all of the time). 
Side note: one of my favorite things about this car are the seats. I intentionally held out on a QV until I could find one with these seats equipped that didn't totally break the bank. The first QV I saw was a demo car that had these, and obsession would eventually became reality.
Next week I will update this thread with more information as we move along. First up will be real world acceleration testing in stock format (0-60, 40-100, 60-120, and 1/4 mile time and ET).
We'll also be installing a plug and play boost gauge to log boost data, and then we'll be dynoing the car in stock form as well. 
PLUG & PLAY BOOST GAUGE:
Our plug and play boost gauge is now installed on the car. Very easy, and the mounting locations are flexible depending on what you prefer. For now here are some photos. We should have instructions on how to install this, as well as the item on the website in the next day or so.
UPDATE: PLUG & PLAY BOOST GAUGE NOW AVAILABLE
The plug and play boost gauge for the Giulia and Stelvio QV is now live and on the site, complete with installation instructions and other information. 
https://shopeurocompulsion.net/products/vaitrix-boost-gauge-30psi-plug-play-giuliastelvioqv
THROTTLE CONTROLLER | EURO+DRIVE FR
We have been testing a new style pedal controller for the 2.0L and 2.9L Alfas. This was born out of attempting to develop with manufacturers our existing units we use for the Jeep Wrangler 2.0L. The pedal connector is the same as the Giulia 2.0L, but programming is not. Thus our existing platforms would not work without causing issues on the Wrangler. 
Once being able to get this unit working on the Jeep, we decided to try its hand on the Alfas as well, and it has proven to be a solid result. 
Very simple installation, very simple setup, no wiring except what plugs directly into the pedal sensor, and a great deal of settings and modes. We'll be calling it EURO+DRIVE FR (fast response). It is made in Italy (designed by Dimsport). 
We should be putting these up for sale in the next week or so (perhaps a video as well).
A quick update for Giulia/Stelvio QV owners.
Many of you know that the Forge BOV Recirculation Kit has been available for some time, but over the past few months we have been working with Forge to design and create an atmospheric BOV kit that works successfully. That time is finally here.
The Forge Atmospheric Kit is now available exclusively on our site:
We have run tested this setup on our QV for the past 3 months (that includes both road any dyno testing) to confirm that these valves yielded proper actuation and function, while still delivering those lovely blow off sounds.
This kit checked all the boxes, and I highly recommend this to anyone who would like to attain more aggressive sounds from the engine bay. Fortunately, the blow off sounds are just enough (not too over the top, but noticeable).
Quick sound clip below, we will have more videos later: