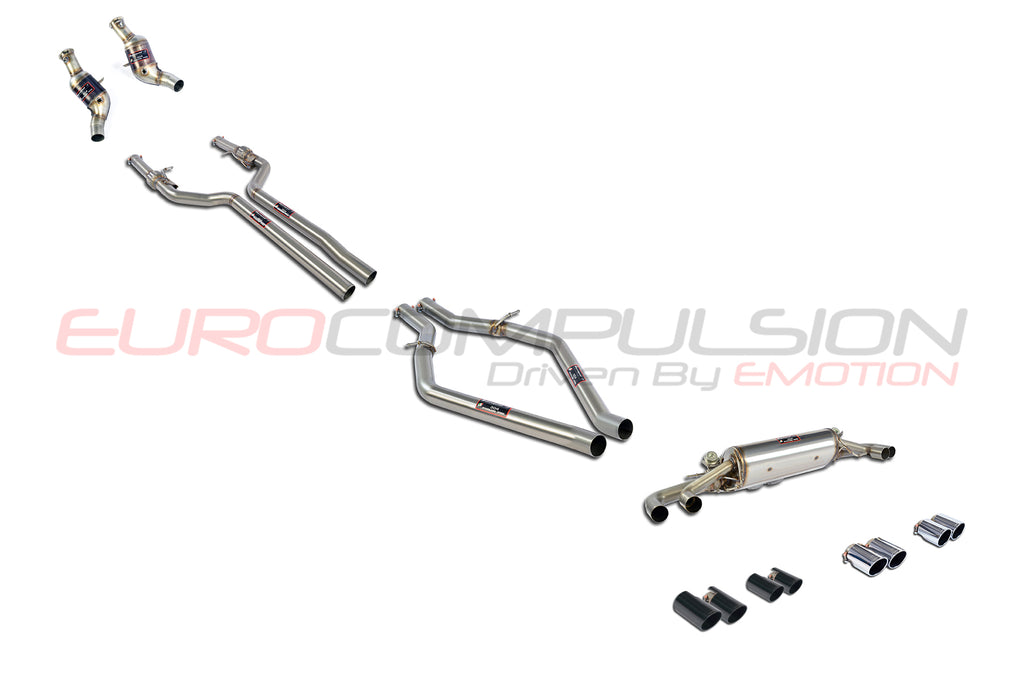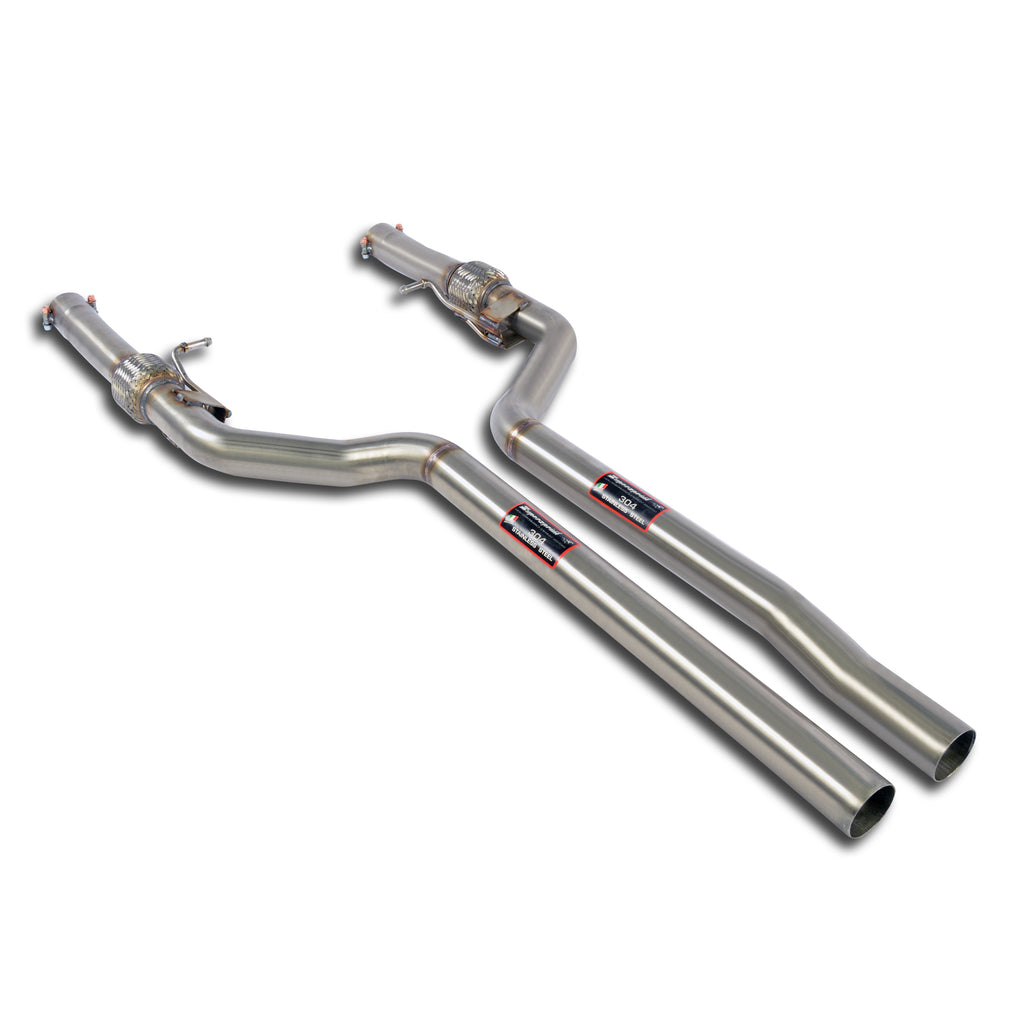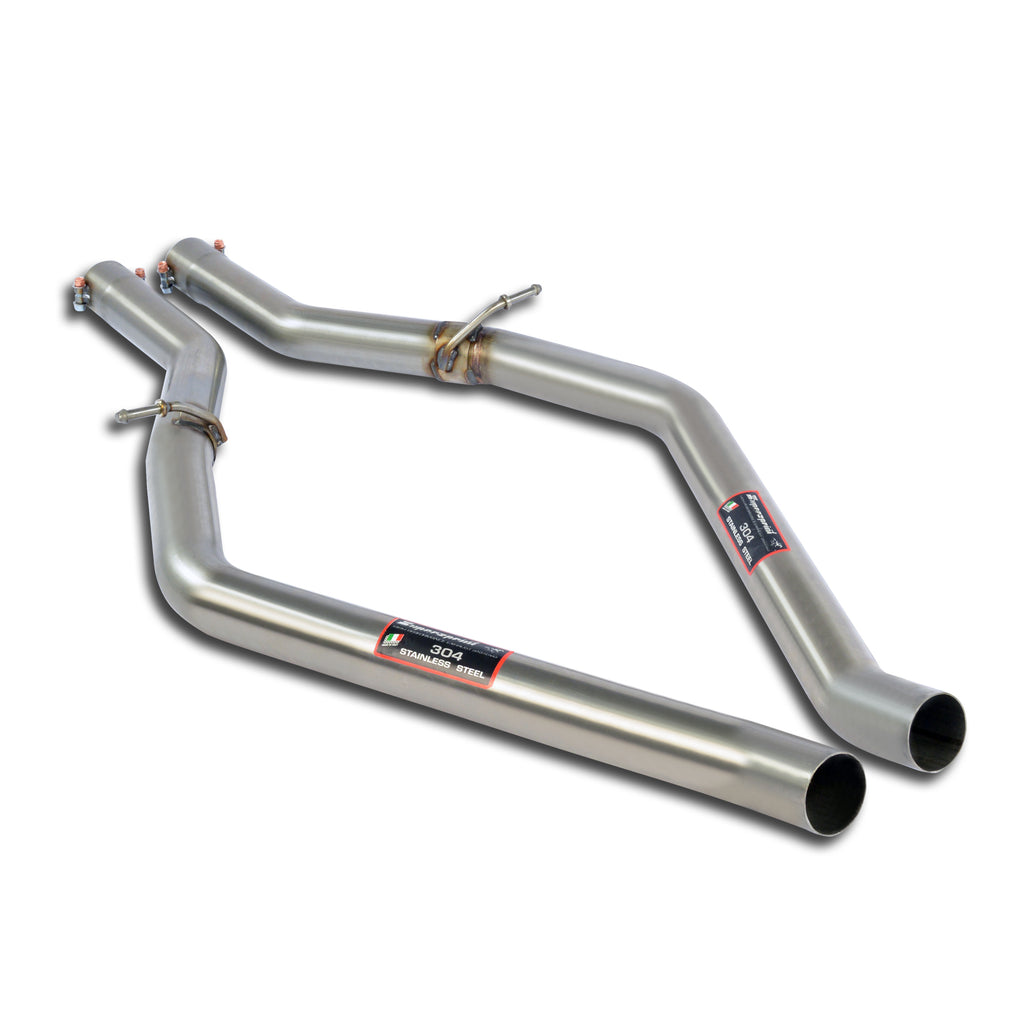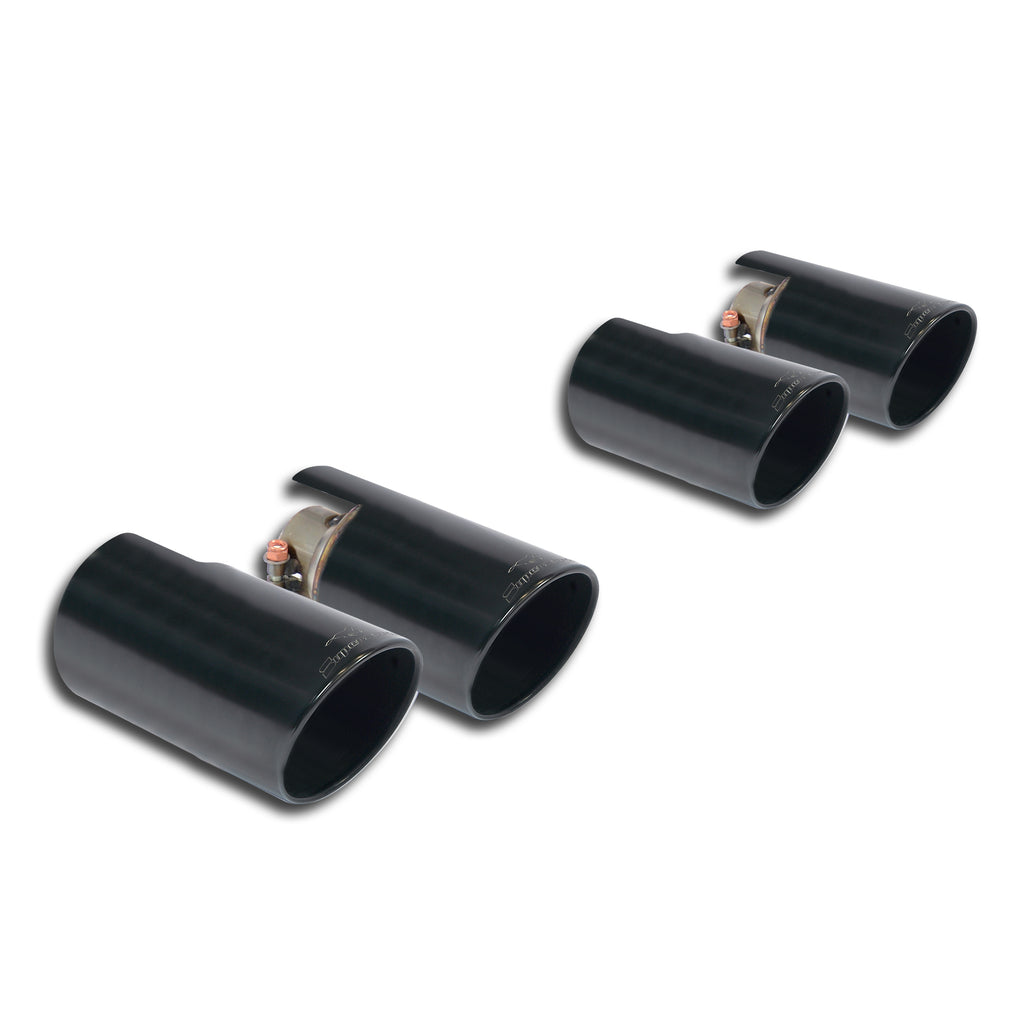 "STREET" FULL EXHAUST SYSTEM (ALFA ROMEO GIULIA 2.9L QV)
Supersprint "STREET" Full Exhaust System for the Alfa Romeo Giulia Quadrifoglio. For over 55 years Supersprint has been a premium manufacturer of performance exhaust systems. This family run business designs, develops and manufactures extremely high-quality exhausts devised through generations of knowledge. All exhaust systems and components are built by hand in Italy, utilizing German sourced Stainless Steel. 
 This STREET system is composed of the following components:
200CPSI High-Flow catalytic Converter Down-pipes (HJS)
3" Stainless Steel Front Pipes W/ Flex Pipe Section
3" Stainless Steel Rear Pipes
Dual Valved Stainless Steel Muffler (Works With Factory system)
Quad Exhaust Tips (Your Choice Black or Polished)
 These 200CPSI High-flow Catalytic Converters feature a Metallic Catalytic converter that will not cause a check engine light and significantly increase air-flow. They are constructed of Stainless Steel and crafted in Italy by hand. These 200CPSI High-flow Catalytic Converters can mate to the factory exhaust system or the super-sprint exhaust system and significantly improve exhaust flow. The exhaust note will be slightly more pronounced both in natural and race modes (closed/open). We can take further advantage of these high-flow catalytic converters with our EURO+DRIVE Clone/Direct Tuning System.  Easily one of the best exhaust systems available for the Quadrifoglio. Eurocompulsion is a proud direct distributor for Supersprint.
FEATURES:
Significantly Improved Exhaust Flow
Increased Power Output
Increased Exhaust Note
German sourced Premium Stainless Steel
Hand Crafted in Italy
Premium Exhaust components
Price Includes right & Left Down-pipes
Mates without modification to the stock exhaust system
Mates without modification to the Supersprint system
FREE SHIPPING CONTINENTAL USA
NOTES:
Parts are handcrafted, made to order in Italy
Current Lead Time/ETA (6-8 weeks, Maximum 2-3 months) 
Special Order, cannot be cancelled.
Parts ship directly from Supersprint in Italy. 
Supersprint has developed a new, full exhaust for the Alfa Romeo Giulia Quadrifoglio, with the Ferrari-inspired V6 Twin Turbo engine. While the std. performance of this car is excellent, the oem, factory exhaust leaves a lot of hp on the table, and it can be improved, substantially. In particular, the oem R&L turbo downpipes, with their high-density, integrated catalytics, are designed very poorly, ending up being overly restrictive. For some unknown reason, possibly a production flaw which cannot be spotted from the outside, the inlet pipes protrude into the diffusers, by an unnecessary, excessive amount; the consequence is that only a reduced portion of the stock cat-monolyth is left to actually be operational. The protruding tubes and the high-density monolyths compund to creating a massive bottleneck in the exhaust gas flow, unfortunately. Supersprint has totally redesigned these components, using high volume, free- flowing, yet extremely efficient HJS Motorsport 200 cpsi metallic cats. Better yet, the transitions are perfectly smooth and seamless, thanks to the Supersprint proprietary-design diffusers, used on both the inlet and on the outlet side of the catalytics; the operation is totally opposite to the stock, crooked factory cats. The final result is a reduction in exhaust gas backpressure of -50% and more, with ideal efficiency at the same time; no error codes, nor CEL thrown. When mated to a reprogramming of the ECU, which increases the turbo boost pressure, the overall gains in torque and max Hp of the SS exhaust are astounding. However, Supersprint is not focused on performance only; we always pride ourselves in making the best sound also, and that is what we exactly did on the Giulia Quadrifoglio. The Supersprint rear muffler, and the straight-pipe mid exhaust section, are designed to offer a tame, subdued sound when in the comfort driving mode, with absolutely no droning, which turns instantly into a race-like roar at the flick of the knob, when the flaps open. The difference between the quiet and the loud mode is very noticeable.The SS dual-sound exhaust bolts right on, using the oem factory hangers and the vacuum hoses for the flaps' operation. The SS R&L Downpipe system is recommended to be used in conjunction to the SS cat-back exhaust, however it also accepts the stock, factory cat -back exhaust, with no modification needed. -Supersprint SRL