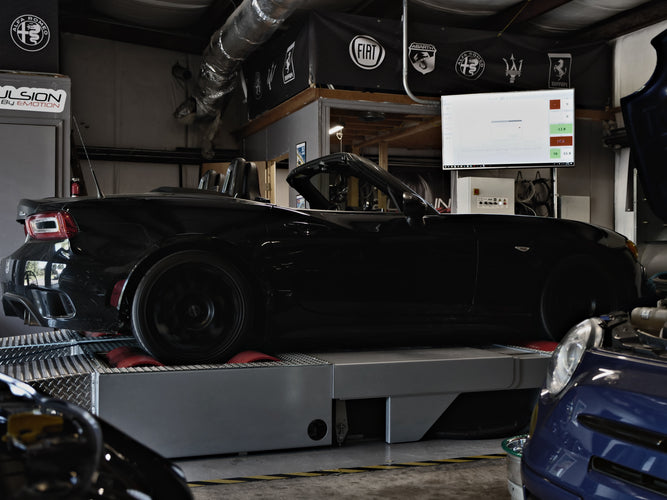 UPDATED INFO:
https://shopeurocompulsion.net/pages/euro-drive-tech-info-124spider
EURO+DRIVE testing data for the EURO+DRIVE & EURO+DRIVE CLONE ECU platforms for the Fiat 124 Spider and 124 Abarth. Dyno information is below.
(Updated 04/2022)
NEW UPDATES:
*After extensive development and testing on Phase 3 and an upgraded turbo on the 124 and 500 Abarth, we determined that to proceed with higher power numbers, the car needs larger injectors. We are moving forward with the use of both E85 and pump gas on the ATP larger injectors (550cc). Below are newest tune updates and both DRAGY and Drag Strip times for this tune. Mods will also be listed below.
In the future, customers will receive a Big Turbo Tune (Phase 2 Big Turbo) with the purchase of our larger turbo. This will be designed for the stock injectors. We will also offer a free optimization for E85 or pump gas with the purchase of the ATP injectors from us.
The full Phase 3 tune will be available to EURO+DRIVE customers for a fee, for those that want the max power and have our bigger injectors.*
-----
With the addition of our new 124 ABARTH (MT) and 2WD/AWD HLS Dyno in the shop, we decided to start from the beginning and obtain testing information for all tuning phases from the new dyno setup, all on the same vehicle. 
An HLS dyno (hydraulically linked system) controls both the front and rear rollers via a complex fluid pumping system using hydraulic oil, which allows for both sets of rollers to be synced with no margin of error. This allows for any car (either 2WD or AWD) to be tested exactly as it would drive on the road (less the air pressure and cooling effect at the front of the car), with no dash lights or interference from the traction control and stability control systems. This also matches the speeds of the front and rear wheels. 
This technology also allows for complete control of testing at various rpm points, load stages, and throttle input. The vehicle can be held at any stage in the powerband, under any of the above conditions for as long as we allow, all while monitoring data and diagnostic information. 
The goal was to use the same car, on the same dyno to re-test all of our tuning work thus far, and make any fine tuning adjustments as needed to the existing maps. 
VEHICLE INFO:
-MY2017 Fiat 124 Abarth (Manual Transmission) US Spec
MAP INFO (results shown below):
STOCK map:

 

91 Octane gas, no other modifications
PHASE 1 map: 

91 Octane gas, no other modifications

PHASE 2 map:

 

(same as above), FMIC, V4 Intake
PHASE 2 BIG TURBO map:

 

(same as above) 91 octane gas, EC Upgraded Turbo (used to be Phase 3)
 PHASE 3 w/E85 or 91/93 OCTANE (Bigger Injectors): This map is designed for those that would like to run an upgraded turbo, but want to extract the most power out of the car. To do so, bigger injectors are required for the full performance of this map and an additional charge for this map will be required. DRAGY and Drag Strip times for this are below.
DRAG TIMES:
Vehicle: 2017 MT 124 ABARTH (1.4L Multiair Turbo)
Mods:
EC V4 Intake
EC Race Intercooler
Forge Wastegate (Yellow Spring, 15psi crack pressure)
Forge BOV (blue spring)
EC Ported Manifold
EC 1446+ Turbo
ATP 550cc Injectors
Record Monza Exhaust
EC Crossover Pipe
Stock Downpipe
93 Octane Gas
Phase 3 (Big Injector) Tune
ADDITIONAL INFO:
All runs (stock - P3) were tested using standard 91 octane pump gasoline and in linked/locked 4-roller configurations. 
Our 124 Abarth also has the entire stock exhaust still intact on these runs.
All runs listed in WHP.