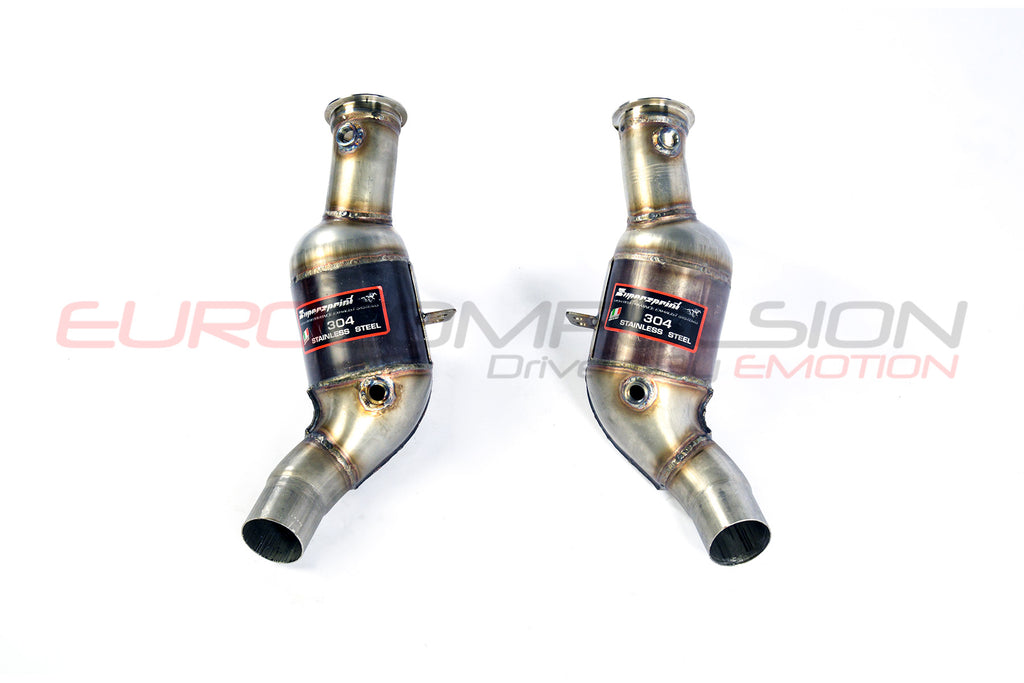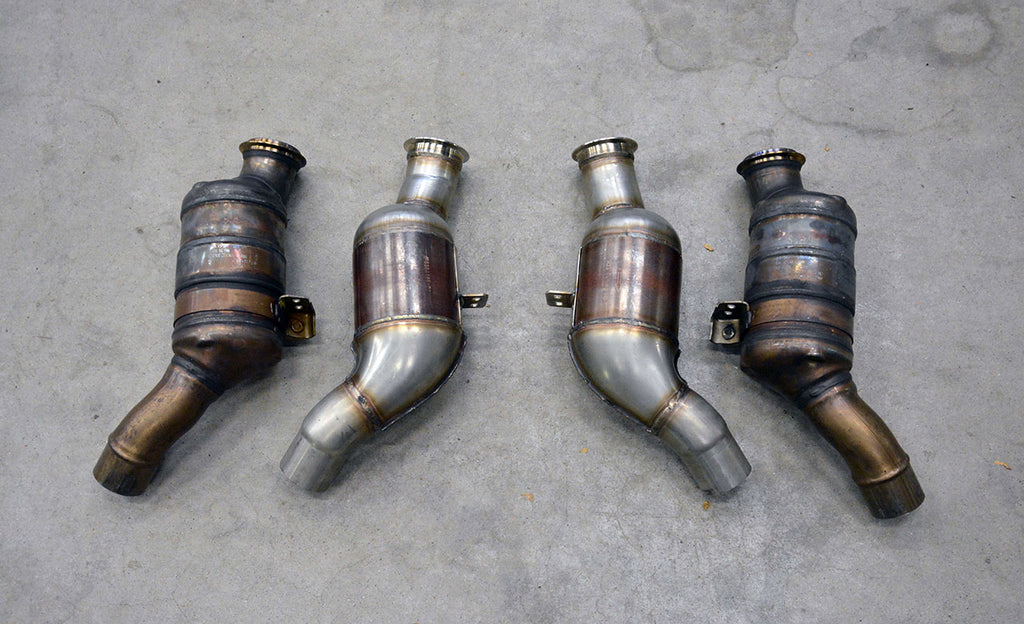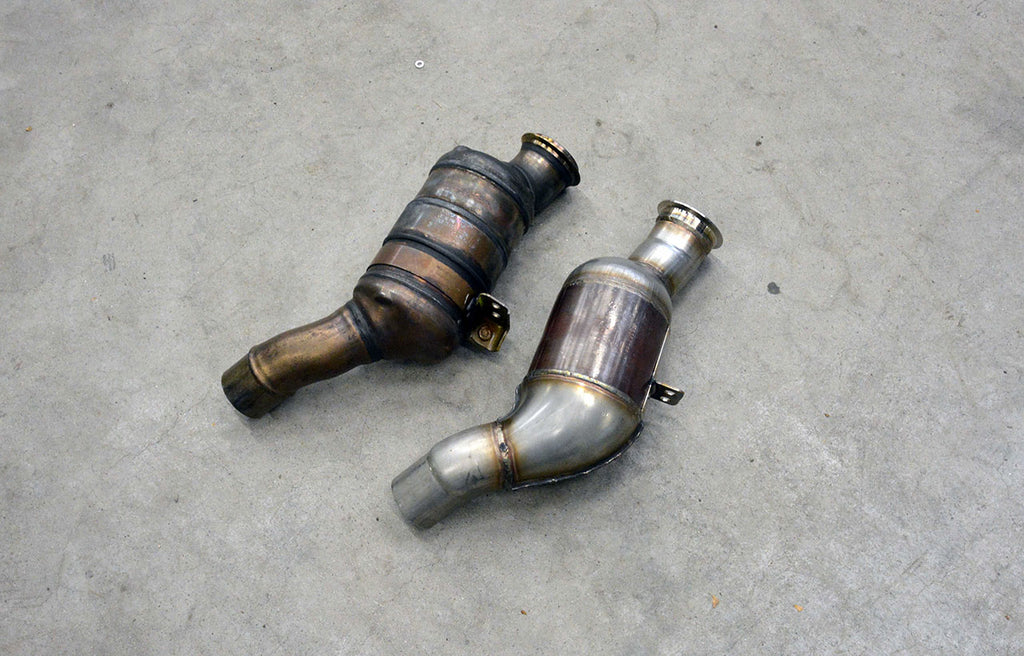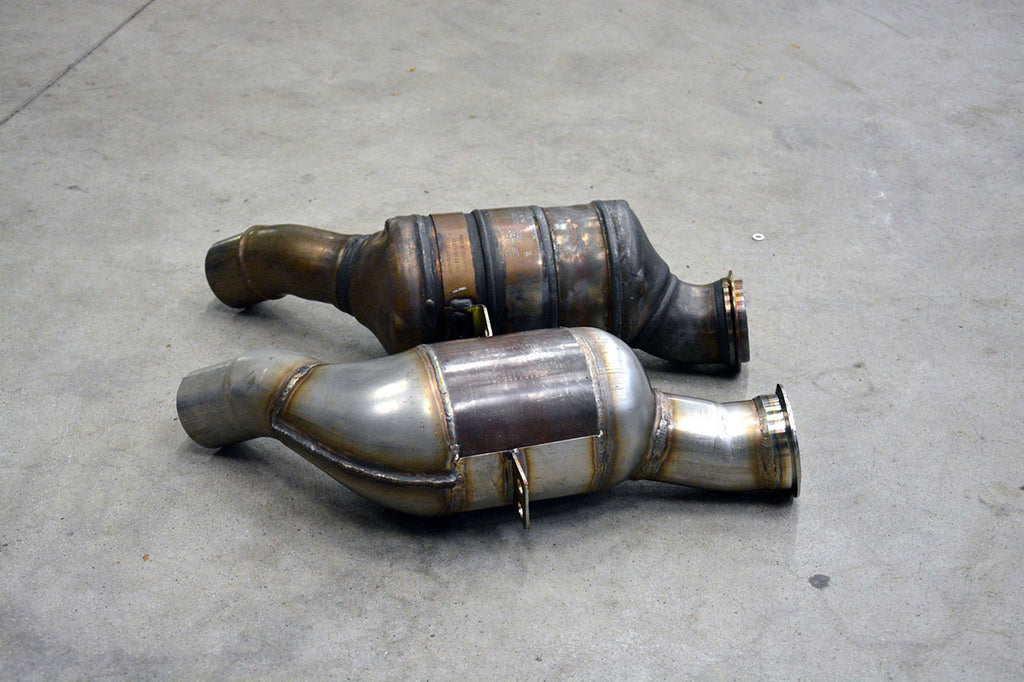 200CPSI HIGH-FLOW CATALYTIC CONVERTERS (ALFA ROMEO GIULIA 2.9L QV)
Supersprint Stainless steel 200CPSI High-flow Catalytic Converters for the Alfa Romeo Giulia Quadrifoglio. For over 55 years Supersprint has been a premium manufacturer of performance exhaust systems. This family run business designs, develops and manufactures extremely high-quality exhausts devised through generations of knowledge. All exhaust systems and components are built by hand in Italy, utilizing German sourced Stainless Steel. 
 These 200CPSI High-flow Catalytic Converters feature a Metallic Catalytic converter that will not cause a check engine light and significantly increase air-flow. They are constructed of Stainless Steel and crafted in Italy by hand. These 200CPSI High-flow Catalytic Converters can mate to the factory exhaust system or the super-sprint exhaust system and significantly improve exhaust flow. The exhaust note will be slightly more pronounced both in natural and race modes (closed/open). We can take further advantage of these high-flow catalytic converters with our EURO+DRIVE Clone/Direct Tuning System.  We are a proud direct distributor for Supersprint.
"In particular, the oem R&L turbo downpipes, with their high-density, integrated catalytics, are designed very poorly, ending up being overly restrictive.
For some unknown reason, possibly a production flaw which cannot be spotted from the outside, the inlet pipes protrude into the diffusers, by an unnecessary, excessive amount; the consequence is that only a reduced portion of the stock cat-monolyth is left to actually be operational.
The protruding tubes and the high-density monolyths compund to creating a massive bottleneck in the exhaust gas flow, unfortunately.
Supersprint has totally redesigned these components, using high volume, free- flowing, yet extremely efficient HJS Motorsport 200 cpsi metallic cats.
Better yet, the transitions are perfectly smooth and seamless, thanks to the Supersprint proprietary-design diffusers, used on both the inlet and on the outlet side of the catalytics; the operation is totally opposite to the stock, crooked factory cats.
The final result is a reduction in exhaust gas backpressure of -50% and more, with ideal efficiency at the same time; no error codes, nor CEL thrown." -SuperSprint
FEATURES:
Significantly Improved Exhaust Flow
Increased Power Output
Increased Exhaust Note
German sourced Premium Stainless Steel
Hand Crafted in Italy
Premium Exhaust components
Price Includes Right & Left 

200CPSI High-flow Catalytic Converters

Mates without modification to the stock exhaust system
Mates without modification to the Supersprint system
FREE SHIPPING CONTINENTAL USA
NOTES:
Parts are handcrafted, made to order in Italy
Current Lead Time/ETA (6-8 weeks, Maximum 2-3 months) 
Special Order, cannot be cancelled.
Parts ship directly from Supersprint in Italy.