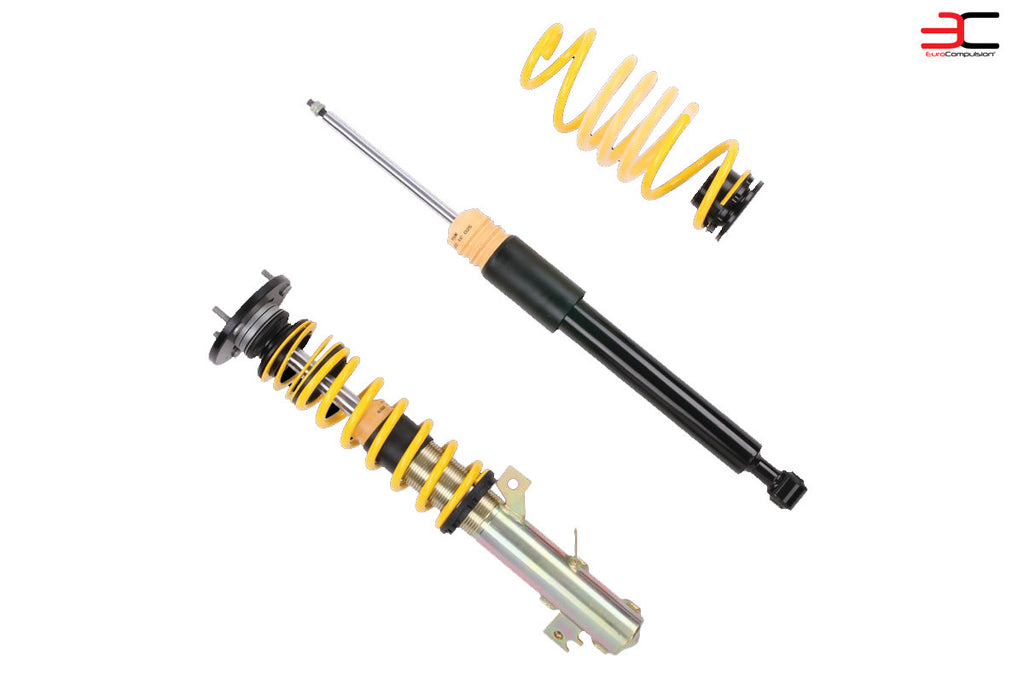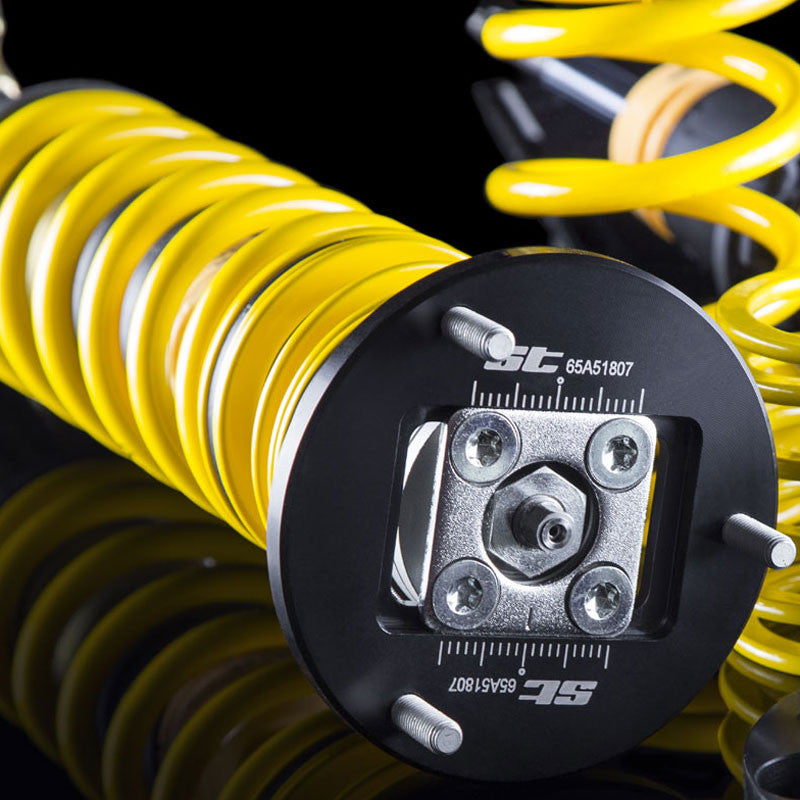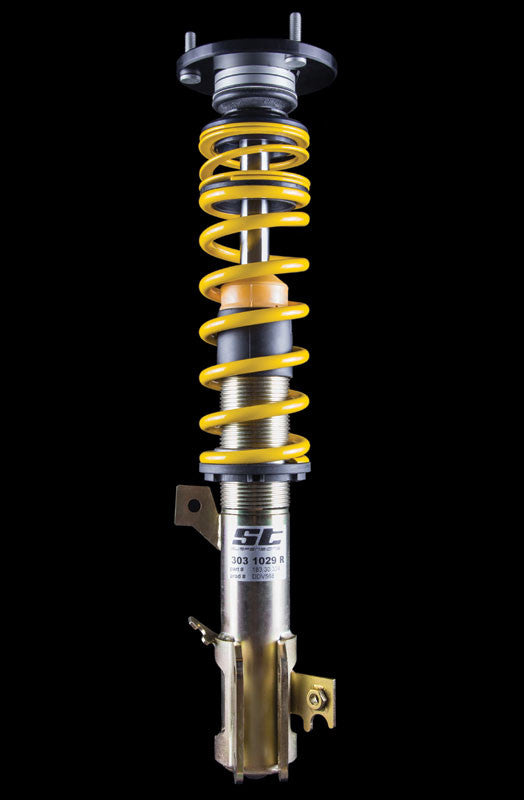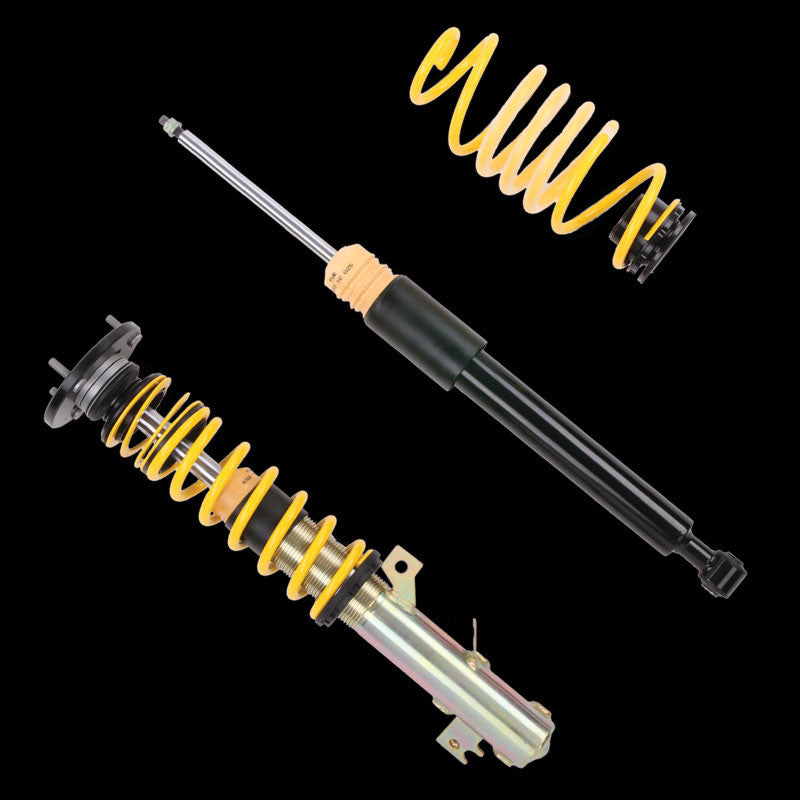 ST XTA COIL-OVER KIT FIAT 124 SPIDER/ABARTH
SPECIAL ORDER
 ST XTA coil-overs for the FIAT 124 SPIDER/ABARTH feature KW damping technology which allows the suspension to be made either stiffer or softer depending on the driving conditions. This damping adjustment is made on the upper end of the chromed piston rod allowing the setup to be changed almost instantly. If the rebound force is increased, the car will drive with more track stability and reduced body-roll. If the rebound force is decreased, the car will feel more comfortable when on the move. For increased performance, the ST XTA features an aluminum adjustable top mount allowing the camber and caster to be adjusted depending on your driving needs or vehicle setup.
Easy lowering adjustment
 Like all ST coilovers the lowering adjustment is made via a continuous thread on the galvanized strut. This even allows the lowering to be made when the kit is installed by turning the spring plate higher or lower! 
KW Engineering: Exclusive for ST suspension
 The high-quality ST XTA coilover is based on the twin-tube damping principle of low friction combined with pressure-resistant damper housings. Manufactured directly at KW, a mono block guide and seal package reduces the friction of the damper as well as protecting it against corrosion and dirt. Each galvanized strut is sealed multiple times to ensure maximum longevity in ALL weather conditions.
FEATURES:
Latest damping technology for maximum longevity
Reduced system friction for effective damping adjustment
Individual lowering within the TÜV-tested adjustment range
Front and rear axle (when possible) with thread adjustment
Galvanized coil-over struts with additional coating for an optimized corrosion protection
Complete solution with adjustable spring plate, race spring system and bumpers with dust protection
Aluminum adjustable uniball top mounts (when possible)
Scaled camber adjustment (optionally also caster)
Externally adjustable damping
Recommended Lowering Rate: Front Lowering:0.8" to 1.8" Rear Lowering:0.8" to 1.8"
NOTE: 
 Please note the XTA system utilizes KW suspension technology and adjustable camber adjustment plates. The standard ST system are ST based coilovers with fixed camber adjustment and no camber adjustment plates. We recommend the XTA system for competative events or those wanting an uncomprimised setup and the standard ST system for daily driving or a weekend driver.
INSTALL INSTRUCTIONS: HERE
"KW automotive's philosophy is to provide a clear and transparent pricing policy. We believe in being fair, honest, and open with our customers. This means that you are getting an incredible KW or ST product made just for you, and that you are paying a net cost for shipping. We often see "Free Shipping" listed, but shipping is never free and often includes additional costs and fees built in. We hope you appreciate our philosophy, and we thank you for your interest in the KW family of brands"